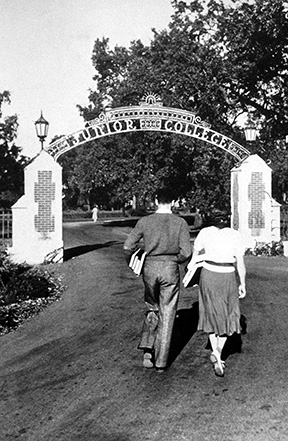 Founded in 1918, Santa Rosa Junior College is the tenth oldest of California's 116 publicly funded two-year colleges. The Federated Home and School Association, comprised of fourteen prominent women from the community, recommended the formation of a junior college to the Santa Rosa Board of Education in the fall of 1917. Santa Rosa Junior College was formally approved by the Board in the spring of 1918.
SRJC offered its first classes at the Santa Rosa High School in the Fall of 1918 to nineteen students by eight educators. Floyd P. Bailey joined SRJC in 1919 as a Physics Instructor and became SRJC's first President in 1934. Bailey summed up the College's infancy when he said, "And so it was, without operating funds, using high school instructors on a part-time basis, in the face of a world war and a serious epidemic, in borrowed quarters with borrowed books, that SRJC began."
In 1930, the permanent site for the college in Santa Rosa was identified. Construction of Pioneer Hall began in October 1930, followed by Geary Hall, Tauzer Gym, and Garcia Hall in mid-1930. Enrollment reached a peak of 1,012 in the fall of 1940 and then dipped to only 235 students in the middle of WWII.
New traditions sprung up in the post-war years and SRJC's mascot, Rosco, was officially named after a 1949-50 student naming contest. In 1948, Exchange Bank President Frank P. Doyle passed away. In his will, Doyle directed that the bulk of his Exchange Bank stock be placed in a trust to support scholarships for SRJC students, one of the largest legacy gifts ever made to a community college. The Frank P. and Polly O'Meara Doyle Trust is one of the largest scholarship programs in the nation.
During the 1950s and 1960s, SRJC saw growth in both student population and campus facilities. The Doyle Student Center, Shuhaw Engineering Building, Barnett Hall, and more were constructed. New programs launched include the licensed vocational nursing program, dental assisting program, evening college, summer classes, and more. Multiple athletic teams reached state championships, and SRJC focused efforts on recruiting minority students. In 1957, Floyd P. Bailey, the College's first President, retired. Assistant to the President Randolph Newman succeeded Bailey. In 1969, President Newman formed the SRJC Foundation to assist the College in raising funds to support student scholarships and program needs.
President Newman stepped down in 1970 and Vice President for Academic Affairs Brook Tauzer became the Acting President while the search for a third President began. Dr. Roy Mikalson was hired in 1971. Enrollment topped 17,000 in 1975, and the first associate in science degree was offered in 1974. The federal government granted SRJC the use of 365 acres for a college farm close to Forestville, named Shone Farm. In 1974, the College opened a Petaluma center in temporary classrooms, later moving to the Sonoma/Marin Fairgrounds. Program and buildings continued to grow, the Art Gallery and the Museum, along with the construction of Plover Library, Quinn Swim Center, Emeritus Hall, Newman Auditorium, and Lark Hall.
In July 1986, the District purchased a 40-acre site in east Petaluma for a permanent campus. By the spring of 1988, more than 30,000 students registered for SRJC classes. President Roy Mikalson announced his retirement after nearly 20 years at the College's helm and was succeeded by Dr. Robert F. Agrella, SRJC's fourth Superintendent/President, in the spring of 1990.
Online registration was launched in the mid-1990s and faculty began offering online studies as early as 1996. Classes began at the newly constructed permanent Petaluma Campus, and a small center in Coddingtown Mall opened, offering short-term classes to upgrade computer and business skills. Sonoma County voters passed Measure A in 2002 to repair aging SRJC classrooms and buildings and expand educational access. Completed projects included Doyle Library, Plover Hall, Petaluma campus expansion, Bertolini Student Center, Burdo Culinary Center, and technology upgrades and network infrastructure.
In 2011, Dr. Frank Chong succeeded President Robert Agrella as the fifth Superintendent/President of SRJC and the first president of color. Sonoma County voters passed Measure H in 2014, a $410 million facilities and technology upgrade initiative. Through Measure H, renovations and new buildings were completed including Burbank Auditorium, the Lindley Center for STEM Education, Kunde Hall, expansions to Shone Farm and the Petaluma Campus, the purchase of property to establish SRJC Roseland, and technology and sustainability efforts. In 2017, over 900 students and employees lost their homes in the Tubbs Fire. The COVID-19 global pandemic in 2020 saw the District shift to remote instruction and support services to protect the health and safety of students and employees.
In 2023, Dr. Frank Chong retired and was succeeded by Dr. Maria Angèlica Garcia, the sixth Superintendent/President of SRJC and the first female president.
SRJC is one largest employer in Sonoma County, with more than 3,500 employees. SRJC has thrived, through lean years and through boom times, by watching enrollment trends, listening to students and the community, showing sound fiscal judgment, and carefully planning growth to meet the ever-changing needs of the College and the District.
For a more detailed history, download the Acorn to Oaks booklet